One of my son Ben's New Year's resolutions required him to make a "really good" turkey sandwich to pack for himself at school.
Ben researched recipes on his Apple iPod touch
and declared that the key ingredient to add was homemade chipotle mayonnaise. We quickly adapted an online sauce recipe for a Panera sandwich, we dipped our (clean) fingers in and closed our eyes as sweet, smokey, spicy chipotle mayonnaise bursted with flavor in our mouths.
The big grin on Ben's face told me we were set.  The next morning, Ben simply layered sliced, smoked turkey, Monterey Jack cheese and his chipotle mayonnaise on a ciabatta roll.  That's one New Year's resolution that was actually kept.
Eager to take the chipotle mayonnaise for another spin, we used it for our grilled burgers as well.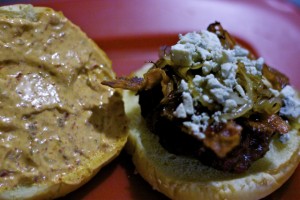 Chipotle mayonnaise perks up my burger
I topped mine with a little bacon, a little sautéd onion, some bleu cheese crumbles and the chipotle mayonnaise. I knew it was a winning combination the minute I held it up to my mouth and the smokey aroma hit my nose.
While the flavor is perfect, I am curious about adapting this recipe further and substituting some lighter ingredients for the mayonnaise. Perhaps fat free sour cream? Or non-fat cream cheese?
Ingredients List
1 cup Best Foods with extra virgin olive oil mayonnaise
2 chipotle peppers in adobo sauce (half of the contents in a 7 oz can)
2 Tbsp lime juice
1 tsp sugar
Method
Put all ingredients in a food processor or blender and purée until smooth. Refrigerate for at least 1/2 hour before spreading on sandwiches, burgers or even dip fries, crackers or veggies.