"Next time you find yourself slack-jawed and hungry in front of a fast-food counter – and a clown is anywhere nearby – just turn on  your heels and head for the lone-wolf, independent operator down the street…"
– Anthony Bourdain, The Nasty Bits: Collected Varietal Cuts, Usable Trim, Scraps, and Bones
I love Bourdain's whole chapter on "The Evildoers." What sticks with me most is the notion that good, quick food is available.
We all should be encouraging local businesses with entrepreneurs who have names and faces and who just might remember ours.
So, if you are in Sherwood, just drive on by Panda Express and Taco Bell and stop at Crazy Sushi.  Chefs Moon and Hans and the entire fun group at Crazy Sushi will serve you some of the best food in town.
I'm relatively new to exploring the sushi world, but I'm enjoying the journey. A little pickled ginger, a little wasabi, a little soy and POW…my mouth is happy, happy,  happy.
Crazy Sushi is a playground for Japanese food lovers. Soooo much to choose from.  I like the salads, the Teriyaki chicken, the miso soup and the sweet candied orange for dessert for sure. But what I LOVE is the rolls.
The rolls at Crazy Sushi are hard-to-handle huge, and incredibly fresh.  The salmon are always a hit. I tip-toed in with the Washington Roll (a California Roll wrapped in salmon).
On my next visit, I dove into the Alaskan Roll (spicy tuna, avocado and shrimp wrapped in salmon).  Boy, do I like the kick of their spicy tuna.
However, I have a new favorite. It may be hard to get myself to try others now because this roll is just that good. It's…(insert drumroll and big theatrical music)… the Spider Roll.
Oh, crab, oh, avocado, oh, yum!
I'm hooked just like the fresh fish they brought in for my lunch!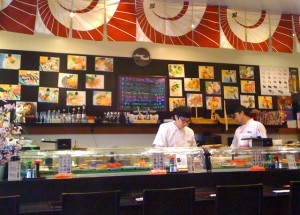 All kidding aside, Crazy Sushi is reasonably priced, fun and fresh.
So as Bourdain says, "…stop snacking on crap…" and eat something really good.
If you absolutely need the convenience that fast food offers, put Crazy Sushi's number into your cell phone (503-625-7101), and stick a take out menu in your glove compartment.