Deschutes Brewery is the spectacular birth place of my family's obsession with brew pubs and wings and IPAs.
The Windheims discovered the Deschutes Brewery many, many years ago on one of our annual Sunriver-area vacations. Ever since that first visit, we have actually planned our arrivals and departures to Sunriver around stopping in Bend for a bite and pint (or two) at the brewery. Sometimes we even make a mid-vacation trip into town.
Like I said, we're obsessed.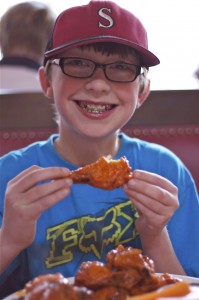 It is actually a mark of "manhood" for each of our boys to eat their first batch of wings. You have to seriously "man up" for those garlic-vinegar-SPICY wings. You don't even mess with them if your lips are chapped.
I make the wings sound a bit scary, but the flavor is addictive and so worth the burn. Only once did I not enjoy that sauce. I tried some "shrimp diablo" in Bend. It was swimming in the sauce and I suffered. Phew. I'm sweating just thinking about it.
We were unbelievably thrilled when Deschutes opened a Portland Public House in 2008. It's become our hoppy place to go for special occasions like concerts and Timbers games or birthdays and when the kids get breaks from school. It's a great day when we get to browse/shop at Powell's City of Books and get a great meal at Deschutes.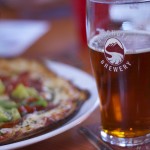 Besides the amazing wings, we have all found other favorites on the menu as well.  The Brewery Pretzel with creamy white cheese and Black Butte Porter stone ground mustard is phenomenal. My hubby and I almost always split the "Meats" pizza (aka Spent Grain Flatbread).  My mouth just watered as I read the menu description: tomato basil sauce, whole milk mozzarella, fontina, Zoe's Meats pepperoni, house made sweet fennel sausage, Prosciutto di Parma and spicy wine salami. A burger is a good way to go as well, and the specials are always worth a look. It's tough though. I feel deprived if I don't get at least a few wings. The boys rarely share anymore.
Favorite beers? Standard for me is Inversion IPA and Green Lakes.  But the seasonal Jubelale holds my heart. I love to cook with it…my chili owes its awesomeness to Jubelale. I even have  "festive winter ale"  art  that I put on the mantel every winter.  I would want to actually tour the artwork for their labels next time I'm in Bend.