I have quite a collection of Anne Byrn (aka Cake Mix Doctor Lady) cookbooks, but decided to try a new book I had never cracked into: The Cake Mix Doctor Returns!: With 160 All-New Recipes
Of course, it had just what I was looking for: Fresh Strawberry Cake with Strawberry Cream Cheese Frosting.
Oh my, this cake is heaven. It is absolutely the moistest cake I've ever made and my hubby even declared it "the best cake" I've ever made.
And, modesty aside, that's really saying something because I make some pretty darned good cakes!
This cake is served chilled to keep the strawberries and cream cheese at their best. So it also feels light and refreshing for summer nights.
There are many versions of this cake now available on the Internet…even some provided by Anne Byrn herself that include adding strawberry gelatin to make it more "pink" and a gluten-free version.
I used the recipe straight from the book but used 1 1/2 batches of frosting (that's figured in below). I like a thick frosting without worry of running out. And, I have four boys in the house that enjoy a spoonful from the bowl.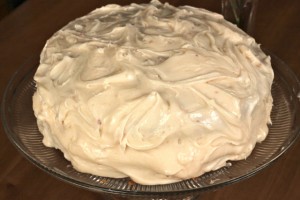 Ingredients List for Cake
Vegetable oil spray or shortening for greasing the pans
Flour for dusting the pans
1 package white cake mix
1 1/2 cups mashed fresh strawberries (about 3 cups fresh berries)
1/2 cup vegetable oil
1/4 cup milk
1 tsp pure vanilla extract
4 large eggs
Ingredients List for Frosting
1 1/2 package (12 ounces) cream cheese, at room temperature
6 tablespoons salted butter, at room temperature
2 Tbsp strawberry juice (mash a handful of strawberries through a sieve/strainer into a bowl and discard pulp)
6 1/2 cups confectioner's sugar, sifted
Method for Cake

Preheat oven to 350ºF.

Lightly oil two 9-inch cake pans and dust with flour (it's also a good idea to get your frosting butter and cream cheese out of the refrigerator so that it is room temperature when you are ready to make the frosting).

In a large mixing bowl, add cake mix, mashed strawberries, oil, milk, vanilla, and eggs. Using an electric mixer, blend the ingredients on low for one minute. Scrape down the sides and mix on medium for another 2 minutes.

Pour the cake batter into the cake pans, being careful to divide it as equally as possible. Smooth the tops and place the pans on the center rack in the oven side by side.

Bake the cakes for approximately 25 minutes until they are golden brown and spring back when lightly pressed with your finger. The cake should be starting to separate from the sides of the pan.  Mine were ready right at 25 minutes.

Remove the pans from the oven and place them on wire racks to cool for about 10 minutes. Run a butter knife around the edge of each cake in the pan to loosen it.  Flip each one over and release it from the pan onto the wire rack. Flip again to upright and allow cakes to cool completely, about 30 minutes, more before frosting.

Method for Frosting

While the cakes are cooling, place the butter and cream cheese in a large mixing bowl. Blend with an electric mixer on low speed until fluffy, about one minute.

Stop the machine and add strawberry juice and and slowly add confectioners sugar 1 cup at a time while mixing on low. Blend with the mixer on low speed until the sugar is incorporated, 1 minute.

If frosting is too stiff, add up to 2 Tbsp of milk and mix again on medium until light and fluffy. If the frosting is too runny, add a little powdered sugar.

Cover the bowl and refrigerate for 30 minutes before frosting cakes.

Important Note:
Store this cake in a cake saver in the refrigerator for up to one week. It tastes fantastic chilled.

Strawberry season and Bunco collided this week. I was so excited to pick my first crop of strawberries that naturally I went searching for a strawberry cake recipe to serve the ladies.