Potstickers, gyozas, dumplings, Gow gees, jiaozi…
The name changes depending on the ethnicity of the restaurant and the manner of cooking.
I personally just order "potstickers" whether it's boiled, steamed or fried and at either a Japanese, Chinese or Thai restuarant.
The staff always knows what I mean and I always get that gingery bite I love.
Technically this recipe is for legitimate "potstickers" as defined by about.com:
"Potsticker dumplings are pan-fried on the bottom and then steamed. It's traditional to flip them over before serving so that the browned, pan-fried side is on top."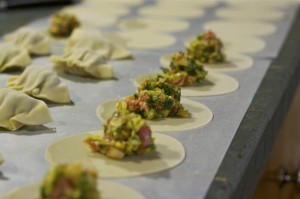 When I set out to find a potsticker recipe of my own, I never dreamed it would take just one try.
But after stumbling upon this recipe from a 2005 Cooking Light and devouring the results, I knew I had to look no further.  I changed the method but the ingredients needed no adjustments.
I now double the recipe and call these potstickers dinner for my family.
My potstickers don't look quite as pretty as the restaurant varieties. I'm definitely not a folding artist. I have found that the pleated edges are easier to do with a round wrapper rather than a square-shaped wrapper.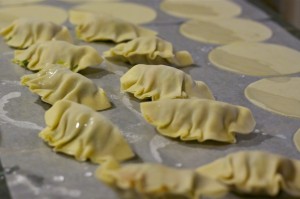 But who cares? Half  the time our eyes are closed as we enjoy each bàng (fantastic in Chinese) bite.
Ingredients List
1  cup  napa (Chinese) cabbage
1  cup  spinach
1/4  cup green onions
1  tablespoon low-sodium soy sauce
1 square inch of peeled fresh ginger
1/2  teaspoon dark sesame oil
Dash of white pepper
3  garlic cloves
1/3  pound  lean ground pork
1/4  pound shrimp meat (salad shrimp)
24  round wonton/gyoza skins
1  tablespoon  canola oil, divided
2  cups  fat-free, chicken broth, divided
Method
Put first 8 ingredients in a food processor and chop until all ingredients are finely minced.
Put mixture into a medium-sized bowl.
Put the shrimp into the food processor and chop until minced. Add to the bowl.
Add ground pork to the bowl and use hands to knead and mix in meats with the veggies and seasonings. Wash hands thoroughly!
Working with 1 wonton wrapper at a time (wrappers are usually in the refrigerated section of the produce area), spoon about 1 heaping teaspoon filling into the center of each wrapper. I've started using my cookie dough scooper
to drop the filling on the wrappers.
Fold in half to form a triangle pouch. Pinch the edges together and brush lightly with water to seal. Place pot sticker on a sheet of wax paper and repeat with remaining filling and wrappers to form 24 pot stickers.
Heat 1 1/2 teaspoons canola oil in a large nonstick skillet on medium heat. I use an electric skillet set to 300ºF.
Arrange 12 pot stickers, seam sides up, in pan, and cook for 30 seconds or until browned. Add 1 cup of chicken broth to pan; cover and cook 5 minutes.
Uncover and cook about 1 more minute or until liquid evaporates.
Remove the pot stickers from pan and either serve to your hovering fans (my son is ready as soon as I lift the lid) or cover and keep warm.
Repeat steps with the remaining 1 1/2 teaspoons canola oil, 12 pot stickers, and 1 cup of broth. Serve immediately.
Note: I have a large electric skillet and I always double the recipe and nearly double the pot stickers in the pan, cooking in three batches.