I happened upon this salad at a potluck in the park. I was immediately drawn to its beauty.
And, then, after digging deeper, I found that it was the total package. Great looking, great tasting and great for you.
I've proudly introduced this lovely salad to many friends, family and even strangers at parties. Most are as charmed as I am.
I adore Mexican Pepper Salad.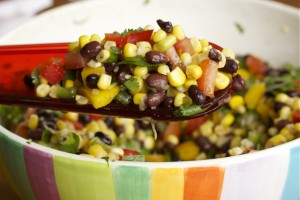 All kidding aside, this is one eye-popping dish to serve at home or to tote and share.
Mexican Pepper Salad is simple to make, refreshing and healthy. It also receives bonus points for being vegetarian, vegan and gluten free compatible.
It even pleases football fans while helping to off-set all of the fried and fatty foods. Most guests are grateful for the healthy addition…though I've caught some scooping it up with tortilla chips instead of a fork.
Ingredients List
1 can black beans, drained and rinsed
1 can corn, drained and rinsed
1 jarred jalapeno, minced (or more if you'd like extra heat)
1 large red bell pepper, chopped
1 large yellow bell pepper, chopped
1 large green bell pepper, chopped
2 large tomatoes, chopped (or a pint of cherry tomatoes, halved)
1 bunch of green onions, chopped
1 bunch of cilantro, chopped
Cumin
Salt
Pepper
White wine vinegar
Juice of 2 limes
Tapatio (or Cholula or other favorite hot sauce)
Method
In a large salad bowl, gently toss together black beans, corn, jalapeno, bell peppers, tomatoes, cilantro and green onion.
Sprinkle salad with cumin, salt and pepper. Add juice of one lime, a couple splashes of wine vinegar and a couple splashes of Tapatio. Gently toss salad.
Repeat seasonings and liquids once more and toss.
Allow salad to marinate for at least 1/2 hour in the refrigerator and serve.