October gets colder and darker and my tummy starts a rumbling for comfort food. Enchilada season has begun. Yes!
And, I am so thrilled with this recipe that it's finally time to write it up and share it.
My chicken chadas are less saucy and less cheesy then a lot of recipes…but, boy do they pack some tangy, zippy flavor.  I knew I had a winner when all eyes lit up around the table after the first bite.
I typically start my chadas in the morning by putting 2-3lbs of frozen, boneless chicken thighs in the crock pot on low for the day. I add a little water and then also sprinkle a little salt and pepper and a little cumin to make the house smell good. It adds to the anticipation of those amazing chicken enchiladas coming later. And, you can use the broth right out of the crock for the sauce.
But, ain't nuttin' wrong with pulling apart a store-bought rotisserie chicken and pouring in some store-bought broth!
Ingredients List
2 Tbsp olive oil
1 bunch of green onions (whites and greens), chopped
1/2 cup chopped red bell pepper
3 cups cooked chicken, chopped
2 tsp ground cumin
4 ounces, reduced-fat cream cheese
2-4 ounces crumbled goat cheese
Salt and freshly ground black pepper
2 fresh jalapenos, cored (I keep the seeds for heat…remove them if you like things less spicy)
4 medium-size garlic cloves, peeled
1/2 cup cilantro leaves
1 cup chicken broth (from crock pot if cooking your own chicken)
2 cups tomato salsa (I used 1 can of Safeway brand fire-roasted salsa…yes, I wrote  "can"…this is a staple in my house…find it with the canned tomatoes).
12-15 white corn tortillas
1 1/2 cups shredded Mexican blend cheese
Method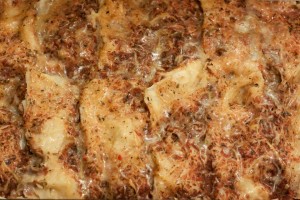 Preheat oven to 350 F.
Lightly oil a 13×9 inch baking dish or roasting pan.
Over medium-low heat, warm the olive oil for several minutes. Add the green onion and bell pepper. Cook for several minutes until soft.
Stir in the cream cheese, goat cheese, cumin and salt & pepper to taste. Stir gently until the cheeses melt. Fold in the chicken, turn off heat and set aside.
In a blender, process the jalapenos, garlic, cilantro chicken broth and salsa. Add salt and pepper to taste.
Pour 1/3 of the sauce into the prepared baking pan. Spread evenly.
Create an assembly line with your filling and shredded Mexican cheese. Then begin to warm/soften tortillas individually either in the microwave for a few seconds in a skillet over medium heat.
As each tortilla is ready, add a heaping spoon full of the filling in a line down the middle of the tortilla, top with a pinch of Mexican cheese then roll it up.  I like my enchiladas very full…as much filling as the tortilla can take and still be rolled up. Place enchilada seam-side down in the baking dish.
Continue making each enchilada until you run out of filling or fun out of space in the pan. It's okay to crowd them.
When your pan is full, pour the remaining sauce over the top of the enchiladas. Top with the remaining shredded cheese.
Bake covered in foil for 30 minutes. Remove the foil and bake for another 5-10 until nice and bubbly.
Let rest for 5-10 minutes and serve.