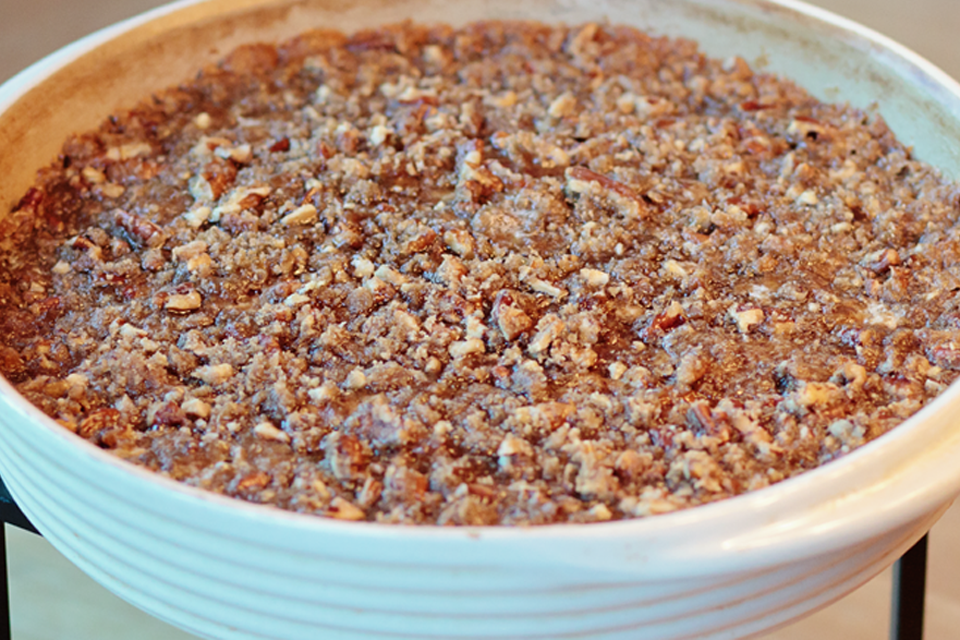 I love hosting Thanksgiving dinner.
It's true!
I get a lot of help from my family. Desserts and some sides and appetizers are brought in by various aunts and cousins and grandmas.
There is one dish though that I always want to make. And the reason is simple…
I want the credit.
Pecan-crusted Sweet Potato Casserole is so a-MAZ-ing. Every year my uncle says it's like putting a slice of pecan pie next to your turkey.
The inspiration recipe came from my 1980 copy of the Eugene Junior League's A Taste of Oregon
.  It's a worthy addition to any cookbook collection…so full of great recipes that it tragically has no room for pictures.
Ingredient List
Casserole
2 eggs, beaten
3 cups canned sweet potatoes, drained
3/4 cup granulated sugar
1 tsp vanilla extract
1/4 cup non-fat milk
1/3 cup butter
Topping
 1 cup packed brown sugar
1/3 cup flour
1 cup chopped pecans
1/3 cup butter
Method
Preheat oven to 350ºF.  Lightly butter a deep baking pan. I use a 9×9 circular stoneware from Pampered Chef.
Put eggs in a mixing bowl and whisk. Add in sweet potatoes, sugar, vanilla and milk. Cut in butter. Mix ingredients until combined.
Pour casserole mixture into a baking pan.
For the topping, put brown sugar, flour, and chopped pecans in a mixing bowl. Cut in the butter and mix together to form a crumb topping. Sprinkle the topping evenly over the top of the casserole.
Bake uncovered for 30 minutes and serve warm.
Tip: For Thanksgiving I get this made early in the day. I set it out on the counter about an hour before the turkey will be done to get it to room temperature. When the turkey comes out, the Pecan-crusted Sweet Potato Casserole gets covered in foil and put in the oven to warm back up.