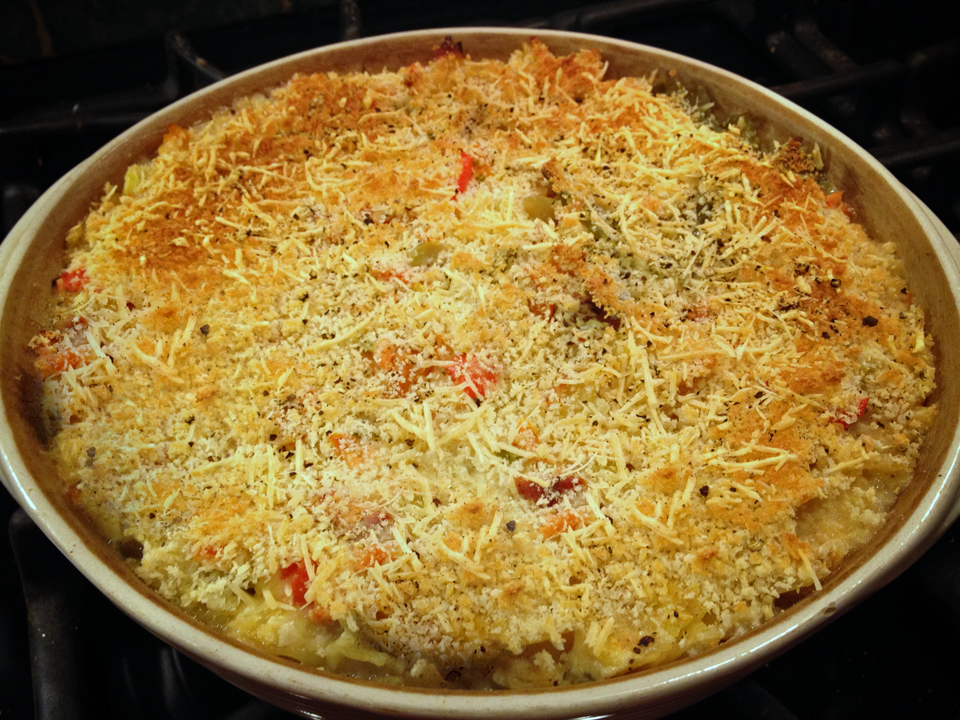 After guilting my brother into giving up some Smoked Salmon on Christmas Eve, I knew I'd better put my prize to good use.
This pasta casserole is fabulous. I love the lift the lemon/pepper combo gives.
And, Smoked Salmon Pasta tastes indulgent, but it's actually not laden with the fat and cheese that most recipes call for. That's a nice bonus since it is definitely time to push the crazy Christmas eating aside and get back to reasonable habits for the New Year.
Ingredients List
Inspired by recipe on Recipe.com
8 oz dried bow tie pasta
1 red bell pepper, chopped
1 bunch of green onion, chopped
2 garlic cloves, minced
2  tablespoons extra-virgin olive oil
1  Tbsp all-purpose flour
1/4  teaspoon ground black pepper
2 cups milk (I used 1%)
4  oz Tillamook Garlic White Cheddar cheese, grated
1/2  teaspoon finely shredded lemon peel
1  Tbsp lemon juice
4.5-ounce smoked salmon, flaked with skin and bones removed
3/4 of 14-ounce can artichoke hearts, drained and coarsely chopped
1  cup panko (Japanese-style bread crumbs)
2 oz shredded Parmesan cheese
Freshly ground black pepper to taste
Red pepper flakes (optional)
Method
Preheat oven to 350°F.
Cook pasta according to package directions. Drain and set aside.
In a large, deep skillet heat olive oil over medium heat.
Add red bell pepper, green onion and garlic. Cook for a few minutes to soften.
Stir in flour and 1/4 teaspoon pepper. Add milk. Cook and stir until slightly thickened and bubbly.
Stir in garlic cheese until melted.
Stir in lemon peel and lemon juice (mixture may appear slightly curdled).
Turn off heat. Add pasta, smoked salmon and artichoke hearts to cheese sauce. Toss to thoroughly coat.
Transfer pasta to a large baking dish. I used a 9×9 deep dish baker. A 9×13 would work also.
In a small bowl, combine bread crumbs, Parmesan and black pepper to taste. Sprinkle evenly over pasta.
Bake, uncovered, for 30 minutes or until heated through and topping is golden. I actually turned the oven onto broil for the last 2 minutes to help with the "golden" part.  Let stand 10 minutes before serving.
Makes 6 servings.