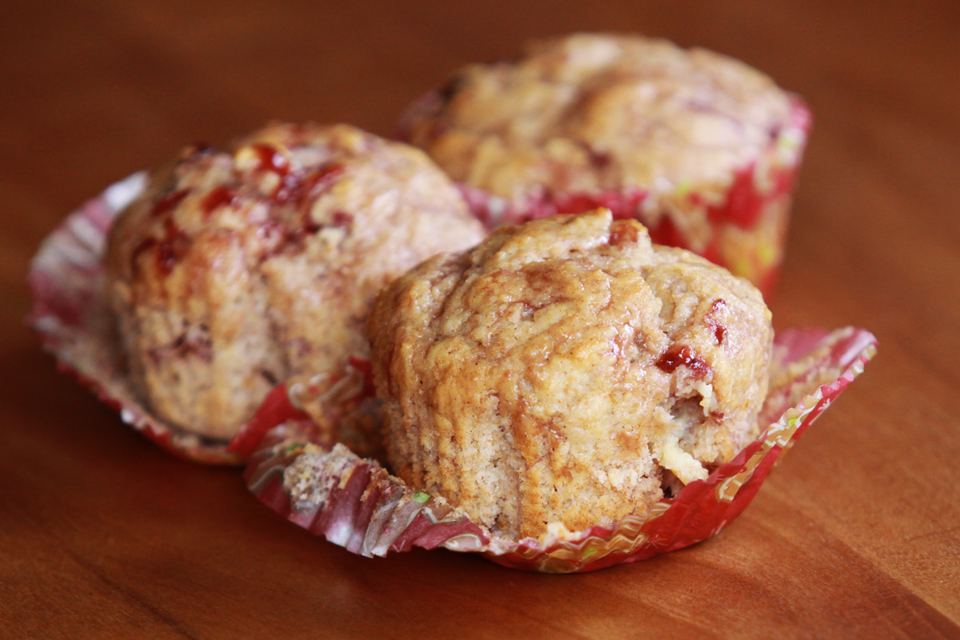 Jam muffins!
I've been making these for years and years for my kids. They are super easy to put together, and I always have the ingredients on hand.
I was even able to resist changing anything from the original recipe that I found in a 2004 Cooking Light. 
But, then one day…
Yep, I messed with it.
I decided to throw a handful of white chocolate chips into the batter for fun. How can you not love Strawberry Jam Muffins with White Chocolate Chips?!
There's no going back now. And, yes, I do always have white chocolate chips in my pantry as well. I know, I know. I truly do feel ashamed.
Whether you throw the white chocolate chips in or not, these muffins deserve super-yum, high-quality, lumpy-bumpy-fruit-filled jam.  Kirkland Organic Strawberry is a great choice. And, of course, any homemade freezer jam is fabulous.  I've used blueberry, strawberry-raspberry and even raspberry-currant.
If you skip the white chocolate chips, a nice touch is to sprinkle a mix of 1 Tbsp sugar and 1/2 tsp ground cinnamon over the top of the muffins before baking. I always keep a little shaker of cinnamon sugar in the pantry.
Ingredients List
Standard muffin pan with 12 paper liners
3/4 cup all-purpose flour
3/4 cup whole wheat flour
2 1/2 tsp baking powder
1 tsp ground cinnamon
1/4 tsp salt
1 large egg
2/3 cup vanilla fat-free Greek yogurt
1/4 cup melted butter
1/4 cup non-fat milk
1/3 cup strawberry jam
1/2 cup white chocolate chips
Method
Step 1: Preheat oven to 375°F
Step 2: Insert 12 paper lines into a muffin pan.
Step 3: Combine flour through salt in a mixing bowl.
Step 4: Create a well in the middle of the dry ingredients. Whisk in the egg then add in yogurt, melted butter and milk.
Step 5: Stir or lightly mix with a mixer the wet and dry ingredients just until moist.
Step 6: Gently fold in strawberry jam and white chocolate chips. It should look like a strawberry ribbon weaving out rather than strawberry colored batter.
Step 7: Spoon batter into muffin cups. Each will be about 2/3 full.
Step 8: Bake at  375°F for 15 minutes or until muffins are golden brown and spring up when lightly pressed with your finger.
Step 9: Cool muffins on a wire rack for 10 minutes. Remove from pan and wrappers and enjoy!